On Sunday, 29 July 2018, the 2nd annual Libori Summer School will commence at the historic DeelenHaus in Paderborn, Germany. Nearly one hundred renowned international scholars and students from all over the world will come to explore and discuss the history of women philosophers in five innovative seminars organized and hosted by Paderborn University's Center for the History of Women Philosophers and Scientists, during the Libori Festival week, from 30 July to 3 August 2018. Since its founding in 2016, the Center HWPS – under the directorship of Prof. Dr. Ruth Hagengruber – has established itself as an internationally recognized institute for research on women in the history of ideas, and as a model for future projects in this burgeoning field. This is reflected in the diversity of the participants at this year's Libori Summer School, who come the Center HWPS from universities in the USA, Canada, England, France, Norway, Austria, Italy, Belgium, The Netherlands, Portugal, Greece, Israel, Turkey, Ukraine, Czech Republic, Russia, Serbia, Croatia, Bulgaria, Thailand, Sri Lanka, The Philippines, and the United Arab Emirates.
The Libori Summer School is an integral part of the life of the Center HWPS, and one of the largest events it has held to date. It is a time for sharing knowledge and celebration, for building new relationships and strengthening partnerships with research institutes across the globe. It will be preceded by a Master Class taught by Prof. Elizabeth Minnich, titled Hannah Arendt Today: The Evil of Banality (27-28 July, Technologiepark 21).  Prof. Minnich will also give the Opening Lecture for the Summer School on Sunday, 29 July.
A complete schedule for the opening event can be found below.
18:00
Guests Arrive/Mingling/Refreshments
18:30

Greetings from Ruth Hagengruber, Director of the Center HWPS
Overview of the Center HWPS – Julia Lerius and Rodney Parker

19:00
Welcoming Address: Mary Ellen Waithe
19:15
Opening Lecture: Elizabeth Minnich – The Evil of Banality
20:00
Dinner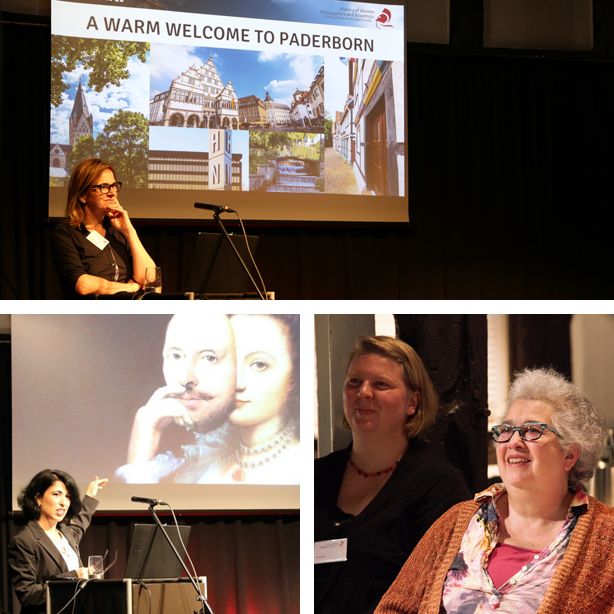 The Libori Summer School itself will take place on the university campus and will consist of 5 parallel courses (running from 11:30 to 17:00, 30 July – 3 August): Emilie du Châtelet between Leibniz and Kant, American Women Philosophers, Women in Communism, Self and Subjectivity in Edith Stein and Hedwig Conrad-Martius, and Women's World Today: War, Violence, and Escape. All courses will be held in building L (campus map). In the mornings (10:00-11:15), before the concurrent sessions begin, there will be a series of plenary keynote lectures that will serve as a general introduction to each course. These morning lectures will take place in L1.202. Anyone interested is welcome to attend these morning lectures. For more information, click here.