Keynote by Oksana Zabuzhko: «The longest journey»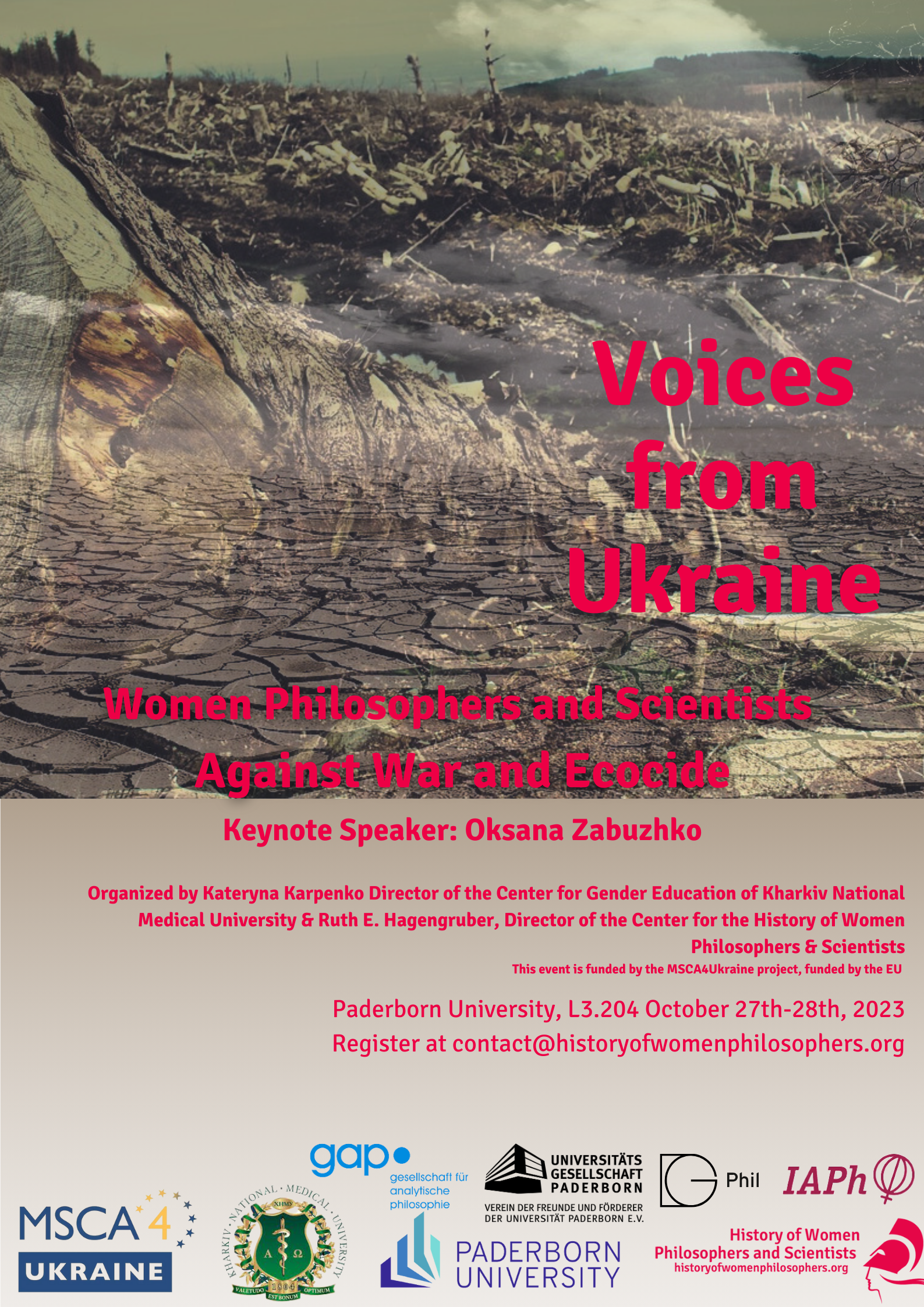 Where:  L-Building, Room: L3 204, University of Paderborn, Paderborn, Germany
Adress: Pohlweg 57, 33098 Paderborn
When: October 27th-28th, 2023
Type of Conference: Hybrid
Registration is closed!

The International Conference "Voices from Ukraine: Women Philosophers and Scientists Against War and Ecocide", held at the Center for the History of Women Philosophers and Scientists, Paderborn University, Germany, from October 27th – 28th, 2023, is organized as a cooperation between Prof. Dr. Kateryna Karpenko, Director of the Center for Gender Education of Kharkiv National Medical University (KHNMU) and Prof. Dr. Ruth Edith Hagengruber, Director of the Center for the History of Women Philosophers and Scientists.
Voices of Ukraine. Women Philosophers and Scientists against War and Ecocide.
The conference links two current issues, patriarchal violence and its relation to war and ecocide. In the long tradition of women philosophers, the destruction of nature has been at the centre of their reflections. In the practice of war, the destruction of nature goes hand in hand with the violent abuse of women.
This conference will analyse this connection in the context of Russian propaganda and the destruction of Ukrainian habitats. In its war against Ukraine, Russia uses tactics of targeted destruction of ecological spaces, as it was among many other events demonstrated by the destruction of the Kachovka Dam, a blatant and unprecedented destruction of human habitat. The conference will analyse the targeted exploitation and destruction of nature in its culturally and historically violent context.
Insights and reports on what is happening on the ground, videos and scientific reports will complement the information presented by renowned female speakers from Ukraine, giving an authentic picture of the situation.
We are especially happy that the internationally renowned Ukrainian philosopher and literary figure Oksana Zabuzhko, recipient of the French Legion of Honour and numerous other awards, will join us at the conference. She has written about the experience of war, its fatal cultural precedencies and will discuss ideas from her latest book The Longest Journey
The keynotes will be held by Oksana Zabuzhko (Receiver of France's Legion of Honor), Tetiana Gardashuk (Philosophy, National Academy of Sciences of Ukraine) and Cynthia R. Nielsen (University of Dallas). Further information about the program can be find in the preliminary program.
For Registration, send an e-mail to contact@historyofwomenphilosophers.org with the subject "VoFUkr Registration" and the format of Participation: online participation or in-person participation. Registration Deadline: the registration is closed.