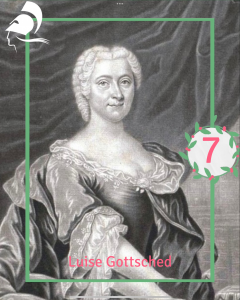 Luise Adelgunde Victorie Gottsched (1713-1762) was an influential german scholar of the 18th century and active as a philosopher, author, translator, even composer.
"A reflection on the transitoriness of all earthly things, which occupied me today, brings me to this idea. It would make me sad if my heart were not enlivened by the hope of one day possessing an imperishable good. They alone still bind me to the earth; all the rest I renounce with joy." (Gottsched 1771, p. 158, Translation Sophie Unger)
Ruth E. Hagengruber argues that the current image of Gottsched and her intellectual claims are misrepresented:
"The image we have today of Luise Kulmus Gottsched has been distorted for quite questionable reasons: It is said that she was a nationalistic-minded intellectual and that she rejected women's education. This is not only a considerable truncation of her ideas, it is wrong. This misinterpretation is due to the fact that, to this day, the internal differences and differentiations in the discussion of women's education and moral values as articulated by women are hardly acknowledged. Also, the image of the Enlightenment and its supposedly superiorist ideas, supported by all as a matter of course, needs to be revised. Luise Kulmus Gottsched and Émilie Du Châtelet, as eloquent intellectual examples, contradict widespread and false narratives of our interpretation of that era. High time, as we see, to turn our gaze and learn once again from the history of wise women." (Hagengruber 2021, p. 159, Translation Shari Wölker)
If you are interested in Luise Gottsched, have a look on our project "The Gottschedin" by Gottsched expert Katherine Goodman!
We also present a Conversation with Diotima on Gottsched with Goodman and Rodney Parker.
References
Gottsched, Luise Adelgrunde Victorie. (1771). Briefe der Frau Louise Adelgunde Victorie Gottsched. Dresden.
Hagengruber, Ruth Edith. (2021). "Mehr wert als tausend Männer" – Luise Adelgunde Victorie Kulmus Gottsched und die wahre Minerva. In J. Iffland, J. Imm, N. Jaeschke, & S. Schauberger (Eds.), Musikwissenschaft der Vielfalt. Festschrift für Rebecca Grotjahn zum 60. Geburtstag (pp. 147–159). Allitera Verlag.