Women Philosophers – Medieval and Renaissance Periods
Summer School | all-day | Center for the History of Women Philosophers and Scientists
Libori Summer School course "Women Philosophers – Medieval and Renaissance Periods": With her book series "A History of Women Philosophers" the instructor of this class, Prof. Dr. Mary Ellen Waithe, created a thorough overview over female thinkers, authors, and scientists within the history of philosophy. Together with Reverend Dr. Conley and Evina Glantzi this Libori Summer School "Women Philosophers: Medieval and Renaissance Periods" aims at reading, investigating, and discussing the works, among others, of Heloise, Hildegard von Bingen, Mechthild of Magdeburg, Tullia d'Aragona, Catarina da Siena, Julian of Norwich, and the Arnauld women.
Language: The seminar will be held in English.
Organizer/ Lecturer:
Prof. Dr. Mary Ellen Waithe (Cleveland State University, USA), Prof. Dr. John Conley SJ. (Loyola University Maryland, USA), Evina Glantzi (National and Kapodistrian University of Athens, Greece), Julia Lerius (Paderborn University, Germany)
General information:
Please e-mail a one page letter of motivation and a brief curriculum vitae to contact(at)historyofwomenphilosophers(dot)org and cc to the lecturer julia.lerius(at)upb(dot)dejulia.lerius(at)upb(dot)de until July 15th, 2017.
Everybody interested in this topic is welcome to attend this seminar. A certificate of participation will be presented to you in the closing ceremony. Participation is free. Transport and lodgings have to be organized individually by the attendees. Please bear in mind, however, that the holiday season in Paderborn starts at the end of July. Therefor we highly recommend to book rooms as soon as possible.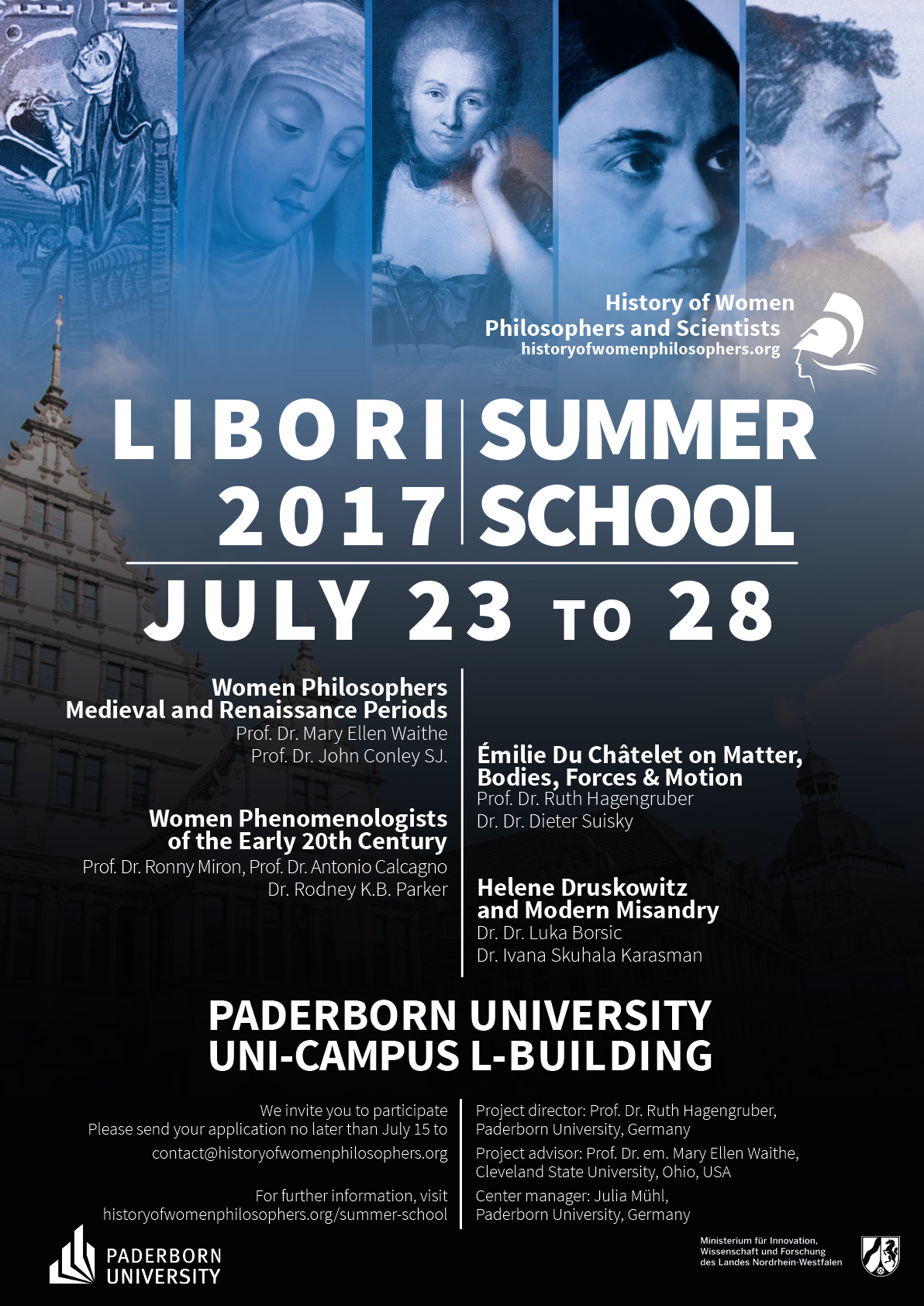 DATE

24 - 28 July 2017



TIME

all-day



COSTS

none



PLACE

Universität Paderborn

Warburger Str. 100




Paderborn

,

33098

Germany
INSTITUTION




ATTACHMENTS




ACCOMMODATIONS