Happy Birthday to Charlotte Perkins Gilman!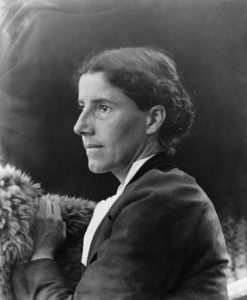 Charlotte Perkins Gilman (*July 3, 1860)
Today, we celebrate the Birthday of Charlotte Perkins Gilman, an American writer, philosopher and social reformer. She was born in 1860 in Hartford, United States. Among her best-known works, along with The Yellow Wallpaper (1892) about a woman's descent into madness, are the manifesto Women and Economics (1898), a radical demand for economic independence for women, and her feminist utopian novel Herland (1915) about a women-only society. Perkins Gilman criticizes the woman's economic dependence on men and their unpaid work at home as mother in the 19th century. The exclusion of women from the economy prevents them from developing as human beings. Their restriction to what is considered feminine makes them unable to live because they cannot even feed themselves. Perkins Gilman called for gender equality.
More about her can be seen in the following videos from the online teaching series by Ruth Hagengruber. If you want to know more about women philosophers, feel free to check out our directory or website!