Harriet Taylor-Mill is an advocate for the economic, social and political equality of women. She engaged in the 19th century political debate on allowing women to wage labor. Taylor-Mill is strongly in favor of the economic independence of women and points out: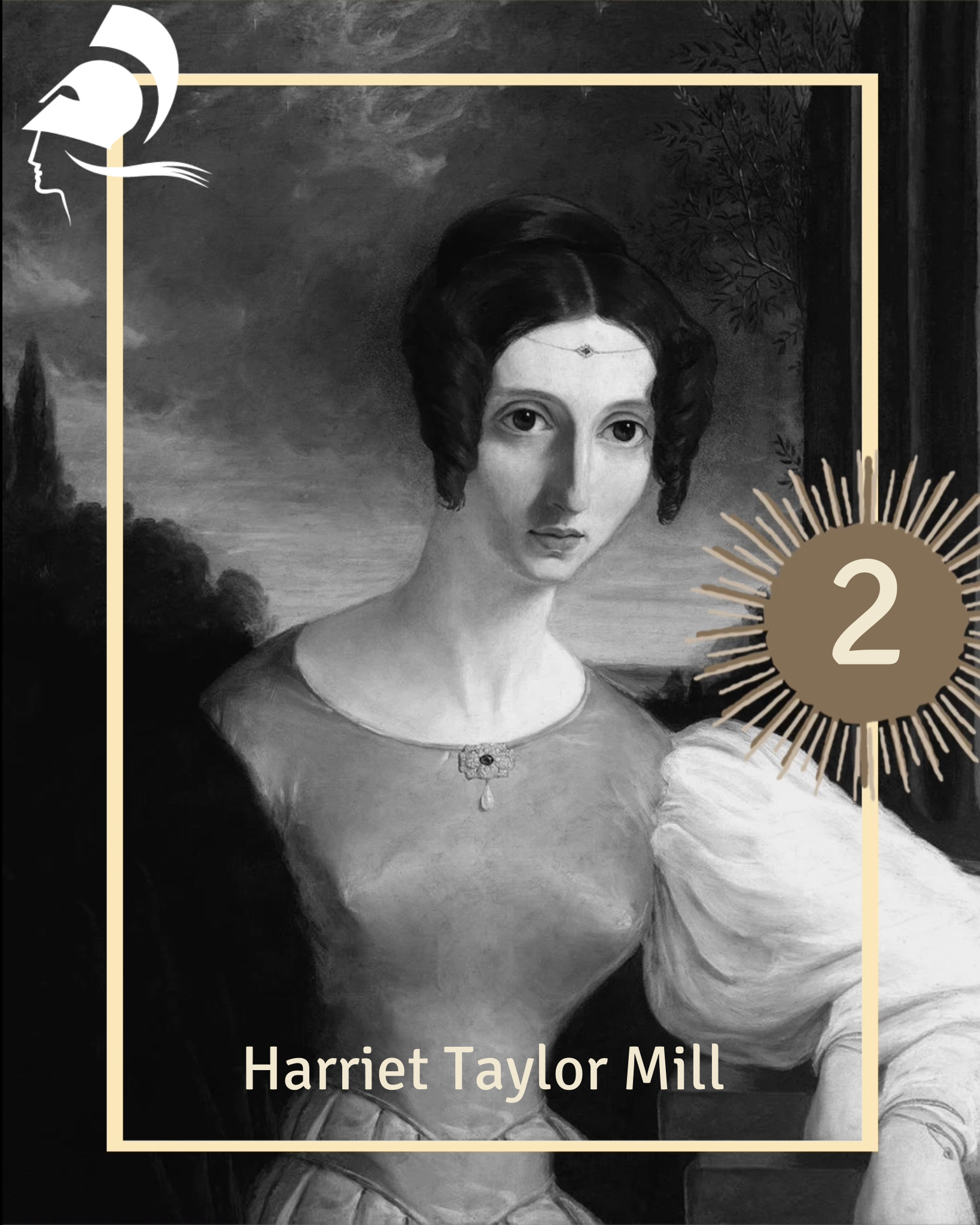 "The worst ever asserted, much worse than is all likely to be realized, is that if women competed with men, a man and a woman could not together earn more than is now earned by the man alone. Let us make this supposition, the most unfavourable supposition possible: the joint income of the two would be the same as before, while the woman would be raised from the position of a servant to  that of a partner. Even if every woman, as matters now stand, had a claim on some man for support, how infinitely preferable is it that part of the income should be of the woman's earning, even if the aggregate sum were but little increased by it, rather than that she should be compelled to stand aside in order that men may be the sole earners, and the sole dispensers of what is earned! Even under the present laws respecting the property of women, a woman who contributes materially to the support of the family, cannot be treated in the same contemptuously tyrannical manner as one who, however she may toil as a domestic drudge, is a dependant on the man for subsistence." (Taylor-Mill 1868, p. 11)
Ruth E. Hagengruber argues that Taylor-Mill's ideas regarding this debate still bear insights for current political debates on women in wage labor: "[Taylor-Mill] refutes the arguments of 'proletarian antifeminism' that allowing women to work would increase pressure in the labor force. Against the fears of her contemporaries that a doubling of the labor supply would entail a decline in pay, she makes a plea for the social benefits of women's work that is still modern today – remember the misogynistic discussion of dual earners of our day." (Hagengruber 1998, p. 37f, Translation Shari Wölker)
The claim for equality in marriage and economics is a key point in the philosophy of Taylor-Mill. For this purpose, according to Taylor-Mill, the education of girls and women is fundamental. Only in this way, progress is possible for society as a whole. Jo Ellen Jacobs summarizes this for Taylor-Mill in our ECC as follows: "Women's education and economic independence both support the kind of marriages that will allow humanity to progress. Inequality in marriage is both fundamentally unjust and inexpedient." (Jacobs 2018)
We have six articles on Taylor-Mill's philosophy in our ECC: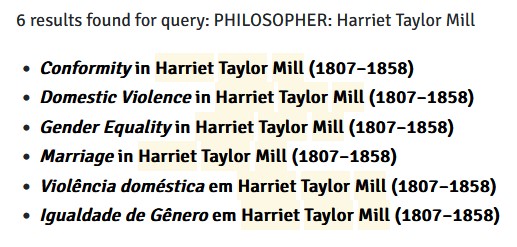 You can find some application examples for incorporating Taylor-Mill in the philosophy class here: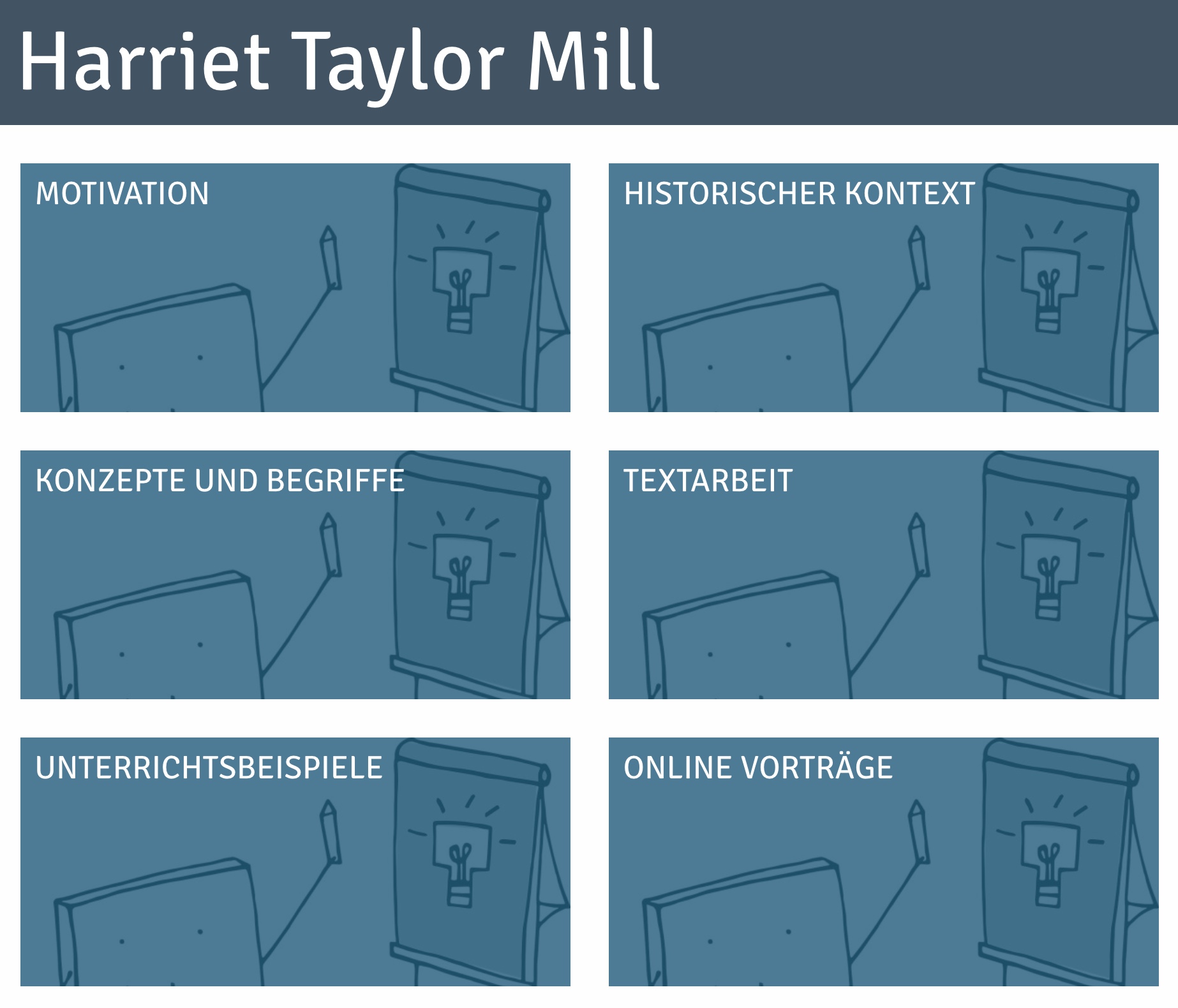 We also present a Conversation with Diotima with Ruth E. Hagengruber and Dieter Birnbacher on Taylor-Mill, as well as several lectures by Ruth E. Hagengruber on Taylor-Mill's philosophy:
References
Hagengruber, Ruth Edith (1998). Klassische philosophische Texte von Frauen. München: dtv.
Jacobs, Jo Ellen (2018). 'Marriage' in Harriet Taylor-Mill (1807-1858). In: ECC, Encyclopedia of concise concepts by women philosophers, 1 Online-Ressource (2 pages). DOI: 10.17619/UNIPB/1-468
Taylor-Mill, Harriet (1868). Enfranchisement of Women. Vol. 1. Reprinted from the 'Westminster Review' for July, 1851. London: Trübner and Co.