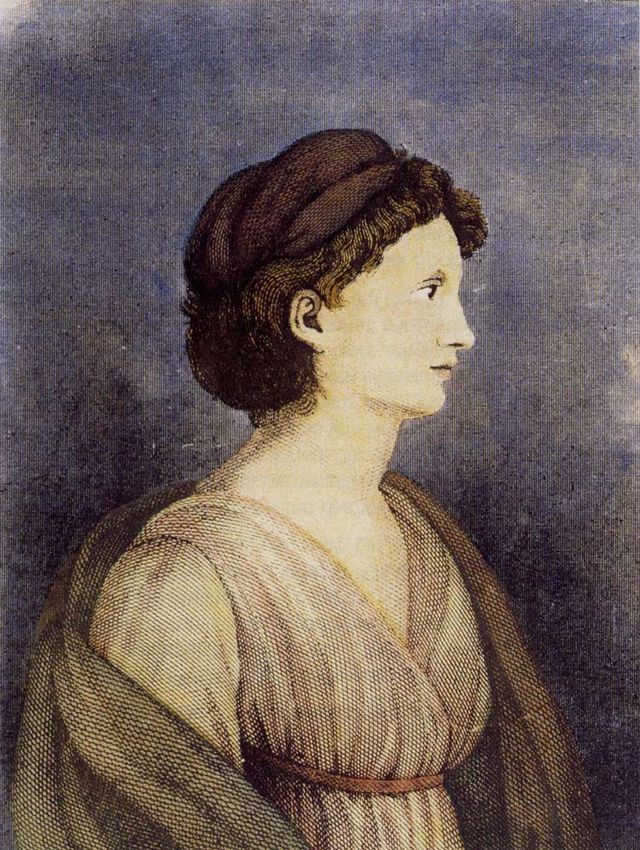 Karoline von Günderrode
* 11.02.1780 
† 26.07.1806
Günderrode was born on the 11th of February, 1780 in Karlsruhe, as the eldest of six children to Hector Wilhelm von Günderrode and Louise Sophie Victorine Auguste. Her parents were distant relatives of one another. Her father was a lawyer who was employed at the court of Karl Friedrich von Baden. He died when Karoline was 6 years old, leaving his family poor. Not much is known of Günderrode's early years; she was taught by a tutor, and made good progress in French and literature. In 1797, when Günderrode was 17 years old, she left home and moved into a Frankfurt residence provided by the Cronstett- und Hynspergische evangelische Stiftung zu Frankfurt am Main, a charitable organisation providing support for unmarried or widowed women.
During her time in the convent, the young woman studied philosophy, literature, history and mythology. It was also during this time that her longing for a fulfilled, self-determined life was awakened. Already in those days, the themes of imprisonment and freedom, love and death became significant for her and remained so until her death. She developed into a follower of the ideal of freedom of the French Revolution.
In Frankfurt, Günderrode became acquainted with Kunigunde and Bettina Brentano, as well as their brother Clemens and Carl von Savigny. Carl von Savigny, a wealthy lawyer, was to be Günderrode's first love. Günderrode sought to marry von Savigny (and thus be able to leave the charitable foundation), but he refused; instead, he eventually married their mutual friend Kunigunde Brentano.
Günderrode published her first work in 1804 under the pen name "Tian", a male-sounding name. Her first collection, Gedichte und Phantasien consisted of 14 poems, some short stories and a philosophical text. Sophie von La Roche published Günderrode's Geschichte eines Braminen in her Herbsttage in 1805, and the popular Taschenbuch der Liebe und Freundschaft gewidmet featured Günderrode's Nikator. Eine dramatische Skizze.
In 1804, during an excursion to Neuburg Abbey near Heidelberg, the Günderrode met the classical philosopher Friedrich Creuzer (1771-1853) and his wife, who was thirteen years younger. Creuzer and Günderrode were interested in mythology and early historical and matriachal social forms. For both, this acquaintance was an intellectually stimulating time. Professor Creuzer supported the young woman of letters and helped her to publish her works. Although he was married and ten years older than Günderrode, the two developed a relationship. In Creuzer Günderrode found a partner who took her ideas seriously and encouraged her literary activity.
Friedrich Creuzer even thought about a ménage à trois. But the love between Friedrich Creuzer and Karoline von Günderrode was doomed to failure. When the professor was nursed by his wife during a serious illness, he swore to her that he would give up his relationship with Karoline. In July 1806 she learned of Creuzer's decision. After reading Creuzer's letter, Günderrode committed suicide by stabbing herself in the chest on the bank of the Rhine at Oestrich-Winkel. Her body was found in the water the next day.
Karoline von Günderrode suffered with mental health problems throughout her life. When she was living in Frankfurt, she spent much of her time alone in her room, despite having a circle of friends. In letters to Kunigunde Brentano, Günderrode describes her difficulties in making friends and feeling close to people. She was disappointed by the nature of her life, which did not compare to her aspirations, and often miserable. In her relationships with men, she found herself similarly unfulfilled, being first rejected by Carl von Savigny and later by Georg Friedrich Creuzer. Karoline's relationship with Creuzer denied her everything she wanted in a relationship – a unity of art and life of the two partners, permanent and absolute. Instead Creuzer refused to elevate their relationship to a serious one, leading her to commit suicide.
Günderrode felt restricted by her role as a woman. This was a major conflict until her death, as the poet did not fit into the typical understanding of women's roles. Nor did she fit into the ideas of how a woman should write poetry at the beginning of the 19th century. The young poet wrote to Gunda Brentano in 1801: "I have no sense for feminine virtues, for chick bliss. Only the wild, the great, the brilliant appeals to me. It is an unseemly but incorrigible disproportion in my soul; and it will and must remain so, for I am a woman and have desires like a man, without manly strength. That is why I am so changeable and so at odds with myself".
Jil Muller