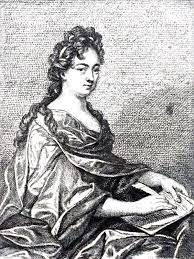 Gabrielle Suchon
*December 24, 1632 (Semur-en-Auxois, France)
†March 5, 1703 (Dijon, France)
Gabrielle Suchon was born in Semur-en-Auxios (Burgundy), France on December 24, 1632 to Claude Mongin and Claude Suchon. Gabrielle's mother, Claude Mongin, came from a relatively well-off, land-owning family. Many of the men in the Mongin family had served as jurists in France. Gabrielle's father came from a line of minor nobles who had historically been public officials. Claude Suchon served as the King's prosecutor until his death in 1645. Gabrielle Suchon may have had a younger brother, also named Claude Suchon.
Suchon was self-educated because women were barred from studying at public institutions during her lifetime. Her writings make clear that she was well-versed in the holy scriptures and the work of both classic and contemporary philosophers and writers. Suchon studied the works of Socrates, Plato, Aristotle, Cicero, Seneca, Plutarch and other ancient philosophers. She utilized their praise of female qualities or figures to craft her argument for women's equality.
Suchon is considered to be the first philosopher to produce a significant body of work dedicated solely to the topic of women. Suchon's writing is unique because she specifically addresses women, as opposed to most moral philosophy of the time whose primary audience was men. She is considered the only female philosopher of her time without a male intellectual advisor or husband. In her works, Suchon argues that women are deserving of the natural rights of liberty, learning and authority. She asserts that a woman can live a fulfilling life while unmarried and promotes the power of voluntary celibacy on secular terms.
Suchon refers to the work of Scholastics such as St. Thomas and St. John of the Cross. She also responds to assertions from the notable feminist treatise Of the Equality of the Two Sexes (1673) by François Poulain de la Barre. Suchon also cites evidence from various chapters of the Bible in her Traité de la morale et de la politique. She spent her early years in a convent where she most likely received the religious education of a nun. Nuns were forbidden from reading directly from the scripture without the interpretation of a male bishop, which implies that Suchon continued her biblical education outside of the convent. Suchon was self-educated; she gained her expertise of the Bible, the classics and contemporary philosophy after escaping the convent.
Church documents have revealed that on October 15, 1666, Suchon was legally transferred from the convent in Semur to the Jacobin monastery at Langres. It is unclear whether Suchon ever took residence at the Langres convent. Some speculate that Suchon may have used the guise of this transfer to escape entirely and travel to Rome. Suchon did file a petition to the pope to contest her vows and restore herself to lay person. Suchon's petition was read by the Congregation of the Council in Rome on September 10, 1672. Documents show that in 1673, Suchon was no longer on the roster of nuns at Langres. Suchon's desire to denounce her vows was the cause of the strained relationship with her family for most of her life.
Very little is known about Suchon's life outside of the convent. Suchon most likely began her life as a lay woman in 1673. Evidence suggests that Suchon spent around twenty years in Dijon teaching and writing before she released her Traité de la morale et de la politique in 1693. She remained unmarried her whole life. Gabrielle Suchon died on March 5, 1703 in Dijon, France after spending her last years teaching children and writing.
Jil Muller