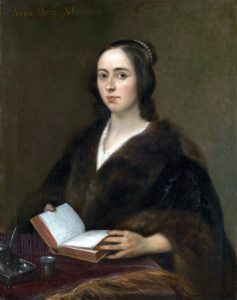 Anna Maria van Schurman (aka Anna Maria von Schürmann)
*November 5, 1607 (Cologne, Germany)
†May 4, 1678 (Wiuwert, Netherlands)
Anna Maria van Schurman was born in Cologne, a daughter of wealthy parents, Frederik van Schurman, from Antwerp and Eva von Harff de Dreiborn. At four years old she could already read. When she was six, she had mastered creating highly intricate paper cut-outs that surpassed every other child her age. At the age of ten, she learned embroidery in three hours. In some of her writings, she talks about how she invented the technique of sculpting in wax, saying, "I had to discover many things which nobody was able to teach me." Her self-portrait wax sculpture was so lifelike, especially the necklace, that her friend, the Princess of Nassau, had to prick one with a pin just to be sure it was not real.
From about 11 years old, Schurman was taught Latin and other subjects by her father along with his sons, an unusual decision at a time when girls in noble families were not generally tutored in the classics. To learn Latin she was given Seneca to read by her father. The private education and self-study were complemented through correspondence and discussions with notables such as André Rivet and Friedrich Spanheim, both professors of Leiden University, and the family's neighbour Gisbertus Voetius, a professor at the University of Utrecht. She excelled at painting, paper-cutting, embroidery, and wood carving. Another art form that she experimented with was calligraphy, which she learned just from looking at a model-book. Once she mastered that, she invented styles that allowed her to write in many of the languages she knew.
After her father's death, the family moved back to Utrecht in 1626. In her 20s, Schurman's home became a meeting point for intellectuals. Among her friends were Constantijn Huygens, Johan van Beverwijck, Jacob de Witt, Cornelius Boy, Margaretha van Godewijk and Utricia Ogle. In the 1630s she studied engraving with Magdalena van de Passe. Combining the techniques of engraving with her skills in calligraphy, her renowned engraved calligraphy pieces gained the attention of all who saw them, including her contemporaries. Despite her playfulness and experimentation, Anna Maria was very serious about her art, and her contemporaries knew it. She herself said that she was "immensely gifted by God in the arts."
In 1634, due to her distinction in Latin, she was invited to write a poem for the opening of the University of Utrecht. In the poem she celebrated the city of Utrecht and the new University. She noted the potential for the university to help the city cope with the economic impacts of the floods and the shifting course of the river Rhine. She also challenged the exclusion of women from the university. In response to her complaint, the university authorities allowed her to attend professor Voetius' lectures. In 1636 she became the first female student at the university, or at any Dutch university. Women at that time were not permitted to study at a university in Protestant Netherlands, and when she attended lectures, she sat behind a screen or in a curtained booth so that the male students could not see her. At the university she studied Hebrew, Arabic, Chaldee, Syriac and Ethiopian. Her interest in philosophy and theology and her artistic talent contributed to her fame and reputation as the "Star of Utrecht". By the 1640s she was fluent in 14 languages and wrote in Latin, Greek, Hebrew, Italian, French, Arabic, Persian, Ethiopian, German and Dutch.
According to her contemporary Pierre Yvon, Schurman had an excellent command of mathematics, geography, and astronomy. The pious young scholar appears to have had several suitors. After his wife died in 1631, Constantijn Huygens asked for Schurman's hand in marriage and wrote 10 poems in three languages to her in 1634. Huygens was teased by other Dutch intellectuals. Schurman's commitment to celibacy and her studies seemed to be unwavering. When she chose the phrase Amor Meus Crucifixus Est (My Love Has Been Crucified) as her motto, her intellectual friends were convinced that her choice not to marry was rooted in her piety, rather than her scholarship.
Schurman corresponded with the Danish noblewoman Birgitte Thott, who translated classical authors and religious writings. Thott's translation of Seneca's philosophical works included a preface in which she argued for women's right to study. Thott stated that she translated classical works because few women were able to read Latin. Schurman publicly praised Thott and called her the "tenth Muse of the North". Schurman through correspondence established a network of learned women across Europe. She corresponded in Latin and Hebrew with Dorothea Moore, in Greek with Bathsua Makin, in French, Latin and Hebrew with Marie de Gournay and Marie du Moulin, in Latin and French with Elisabeth of Bohemia, and in Latin with Queen Christina of Sweden. A frequent topic in this correspondence was the education of women. Schurman in the correspondence expressed her admiration for educated women like Lady Jane Gray and Queen Elizabeth I.
In 1638, she said: "Hence it is that when reading historiographical works over long periods of time, no more appears of the traces of women than of the traces of a ship in the sea".
An unauthorised version of Schurman's writings on women's education was published in 1638 in Paris under the title Dissertatio De Ingenii Muliebris ad Doctrinam, & meliores Litteras aptitudine. As the unauthorised collection of her writings circulated, Schurman decided to publish an authoritative Latin treatise in 1641. In 1657 the treatise was published in English under the title The Learned Maid or, Whether a Maid may be a Scholar.
Jil Muller