*September 18, 1915 (Wronke, Posen, Germany)
†unknown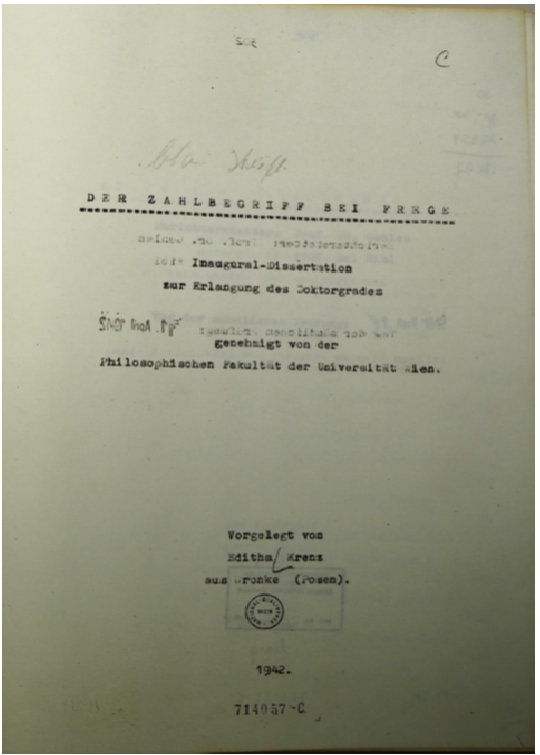 Editha Krenz was born in Wronki (German: Wronke), in today's western-central Poland on September 18, 1915. She was the daughter of the school teacher Stephan Krenz and his wife Helene, née Brose. She visited the Gymnasium Aloisianum in Gelsenkirchen (today Grillo-Gymnasium) and passed her final examination at this school. After studying educational science for two semesters at the "Hochschule für Lehrerinnenbildung" in Hanover, she moved to the University of Göttingen, where she studied mathematics and physics for two semesters. She attended lectures of Helmut Hasse, Robert Wichard Pohl, and Jakob Christoph Georg Joos. With the outbreak of the Second World War, she moved to the Friedrich Schiller University Jena. She continued her studies in mathematics and physics and deepened her interests in geography and philosophy. Her teachers of that time were Paul Ferdinand Linke, Bruno Bauch and Hermann Johannsen. In 1940, she changed to Berlin in order to visit classes of Eduard Spranger and Nicolai Hartmann. In the autumn of 1940, she moved again at the University of Vienna. Here, the doctoral examination took place on April 11, 1942. The examiners were Arnold Gehlen, Hans Eibl, Ottomar Wichman and Karl Mayrhofer. The title and topic of her dissertation was: Der Zahlbegriff bei Frege. After a short historical overview the author focuses on Frege's criticisms of Kant's synthetic a priori, by demanding that arithmetic is still analytic. The book ends with an outlook on the impact of Gödel's incompleteness theorems on Frege's logicism. Further information about Editha Krenz is not available. The only known fact is that Editha Krenz left Vienna in April 23, 1942 in order to go to Gelsenkirchen.
References
Krenz, Editha (1942). Der Zahlbegriff bei Frege. Inauguraldiss. zur Erl. des Doktorgrades an der Universität Wien.
Archival Records
Archiv der Universität Wien. Rigorosenakt Editha Krenz Nr. 15.621.