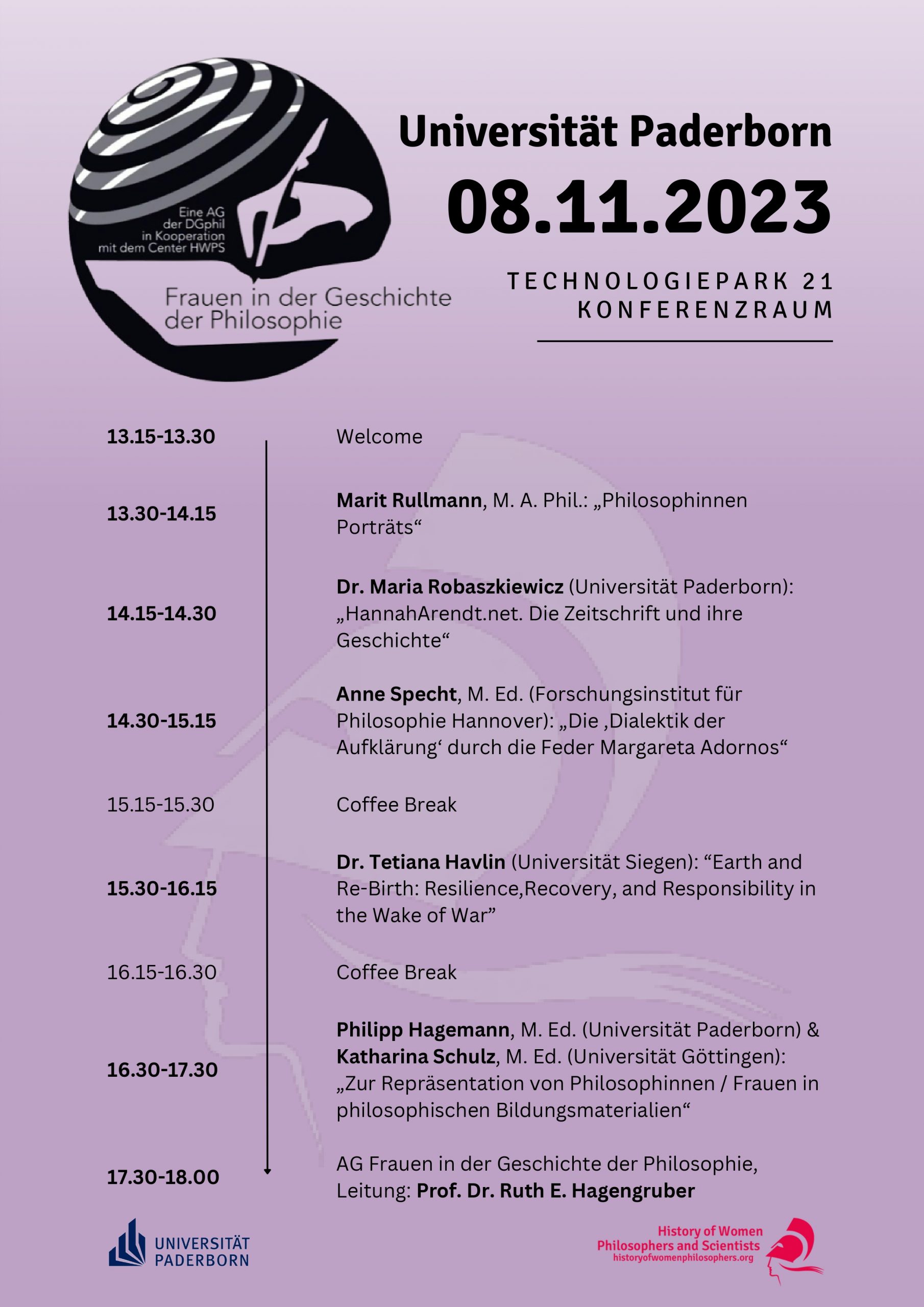 Wir freuen uns, Sie herzlich zu unserer Veranstaltung am 08. November an der Universität Paderborn einzuladen. In dieser Veranstaltung hören wir uns Vorträge zu Philosophinnen und zur Didaktik an, tauschen Ideen aus und planen gemeinsam weitere Projekte. Die Redner*innen werden vor Ort in Paderborn sein, weshalb wir uns auch freuen würden, wenn einige AG Mitglieder nach Paderborn kommen. Das Programm sieht wie folgt aus:
13.15-13.30 Welcome
13.30-14.15 Marit Rullmann, M. A. Phil.: "Philosophinnen Porträts"
14.15-14.30 Dr. Maria Robaszkiewicz (Universität Paderborn): "HannahArendt.net. Die Zeitschrift und ihre Geschichte"
14.30-15.15 Anne Specht, M. Ed. (Forschungsinstitut für Philosophie Hannover): "Die 'Dialektik der Aufklärung' durch die Feder Margareta Adornos"
15.15-15.30 Coffee Break
15.30-16.15 Dr. Tetiana Havlin (Universität Siegen): "Earth and Re-Birth: Resilience, Recovery, and Responsibility in the Wake of War"
16.15-16.30 Coffee Break
16.30-17.30 Philipp Hagemann, M. Ed. (Universität Paderborn) & Katharina Schulz, M. Ed. (Universität Göttingen): "Zur Repräsentation von Philosophinnen / Frauen in philosophischen Bildungsmaterialien"
17.30-18.00 AG Frauen in der Geschichte der Philosophie
Wir laden darüber hinaus auch dazu ein bei der Springer Buch Reihe Frauen in Philosophie und Wissenschaft beizutragen. Alle notwendigen Informationen können Sie hier finden.