A history in half.
We need the legacy of women philosophers.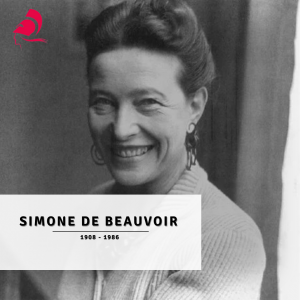 "You are not born a woman, you become one."
"The biological need – sexual desire and desire for posterity – which places the male under the dependence of the female has not socially liberated the woman."
– Simone de Beauvoir, Le deuxième Sexe (1949).
Simone Lucie Ernestine Marie Bertrand de Beauvoir was born in 1908. She was a philosopher who called herself a writer despite her rigorous philosophical training and accomplishments. Lasting contributions to the fields of ethics, social and political philosophy, existentialism, phenomenology, and feminist philosophy were made by de Beauvoir.
The Conference Women and their Body goes into greater detail on the topics of Violence against the female body, Sexuality and Prositution:
Björn Freter, Epistemic anti-female* violence and its consequences for the female* body (10.00); Sara Cohen Shabot, Keeping Birthing Bodies Grotesque – Or Resisting Obstretic Violence through Crip Phenomenology (10.30); Katja Čičigoj, Body as obstacle, nature as unjust, Reconsidering somatophobia in Beauvoir and Firestone (11.00);  Evina Glantzi, Autonomy, Gender Violence and the Burdens of the Oppressed Body (11.45); Aura-Elena Schussler, A Feminist Critique of the Objectification of the Female Body (15.45); Sandra Markewitz, The Virgin Thinker. On Women Denying the Sexual Marketplace (16.15); Hassan Ali, Dancing With Difference: Transsexual Sadomasochism as a General Economy (16.45); and Laura Martin, Surrogacy, Prostitution, and Women's Autonomy (17.30).
You can still register (no registration fees) for online participation: https://indico.uni-paderborn.de/event/21/

Interest aroused? More information about de Beauvoir and many other female philosophers and scientists can be found in our Directory. It gives an overview of women philosophers and scientists from approx. 2300 BCE to the 21st century. Currently, there are more than 280 names of women philosophers listed and the entries will be periodically updated with biographical information and sources for further research.
Feel free to follow us on social media for regular updates: Facebook, Instagram and YouTube.