The Voices from Ukraine talk series, which took place May 27-28, 2022, is now available on Youtube.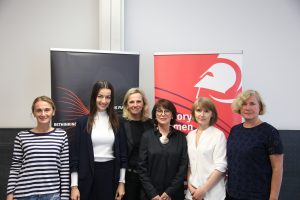 The conference "Voices from Ukraine: history of women philosophers and scientists in the war situation" served, on the one hand, to support and continue the scientific cooperation with the Center for Gender Education of the National Medical University of Kharkiv and, on the other hand, to create a scientific platform for the exchange of ideas about the lives of women scientists in the war and their prospects.
One topic of discussion was the position of women researchers in the social sciences and humanities, where the percentage of women exceeds 60%. Further, the conference discussed the problems of integration into German academic life and continuation of an academic career, as many Ukrainian women scientists came to Germany after the beginning of the war in Ukraine at the guest invitation of local universities and foundations. In addition, the existential dimensions of war and peace were addressed in the context of women's search for meaning in life and self-realization.
The full-scale military invasion of the Russian Federation into Ukraine has been going on for more than 9 months. The voices of Ukrainian women researchers, which were heard at the end of May 2022 in response to this war, are still relevant today. They had an impact on the trajectories of scientific research and creative self-realization of both women scientists who continued to work in Ukraine and those who were forced to leave the country due to active hostilities in their places of residence. New facts have emerged regarding ecocide, which is a terrible consequence of war. Meaningful imperatives regarding criticism of the patriarchal character of the aggressor's actions also become scientific evidence. Therefore, a polylogue about the character and consequences of war is today a promising means of combating it.~Kateryna Karpenko
The first talk is by Prof. Dr. Nellya Filyanina on Nature and Woman: Landscape of War. The second talk on Ecofeminism and the Ethics of Care was given by Prof. Dr. Kateryna Karpenko, Director of the Center for Gender Studies at Kharkiv National Medical University in Ukraine. Prof. Dr. Olena Strelnyk gave a talk on Displaced Women-Scholars: From the Old Precarious Position to the New One? The fourth talk is by Tatiana Perga on Perspectives of Environmental History Research in the Context of War. The penultimate talk on Existential Dimensions of War is by Iryna Utiuzh and the last one from Olena V. Zaytseva is about the Impact of Traditional Values and Realities of Modern War on Ukrainian Women.