The New Conferences Explorer: Croatia Libori Summer School
If the conference Women and their body and especially the session Medicine has aroused your interest, then you will certainly also be interested in the three Events that we will announce today and tomorrow. Take a look at the program and join us. Exciting lectures await you.
We are happy to announce the 2nd  Croatia Libori Summer School from 19th to 22nd of June 2023 in Zagreb.
This years's topic is: Women Philosophers and Scientists on medicine, psychology, and body awareness

You can look forward to workshops animated by: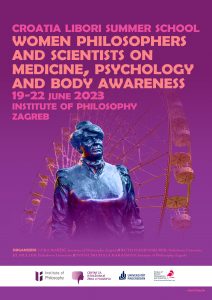 Luka Boršić & Ivana Skuhala Karasman on Druskowitz
Ankica Čakardić
Chelsea Harry on Karoline von Günderrode
Jil Muller on Émilie du Châtelet and Elisabeth of Bohemia
Daniel Neumann on Edith Stein
Michele Vagnetti on E.E. Constance Jones
More to come…
More to come. Stay tuned for the program.
For further information and registration please use the following adress: liboriSS@historyofwomenphilosophers.org