Recap IAPH 2023 in Buenos Aires – Plenary on Rethinking the Philosphical Canon
Ruth E. Hagengruber, Silvia Manzo and Carolina Araújo | August 3, 2023 | IAPH 2023 in Buenos Aires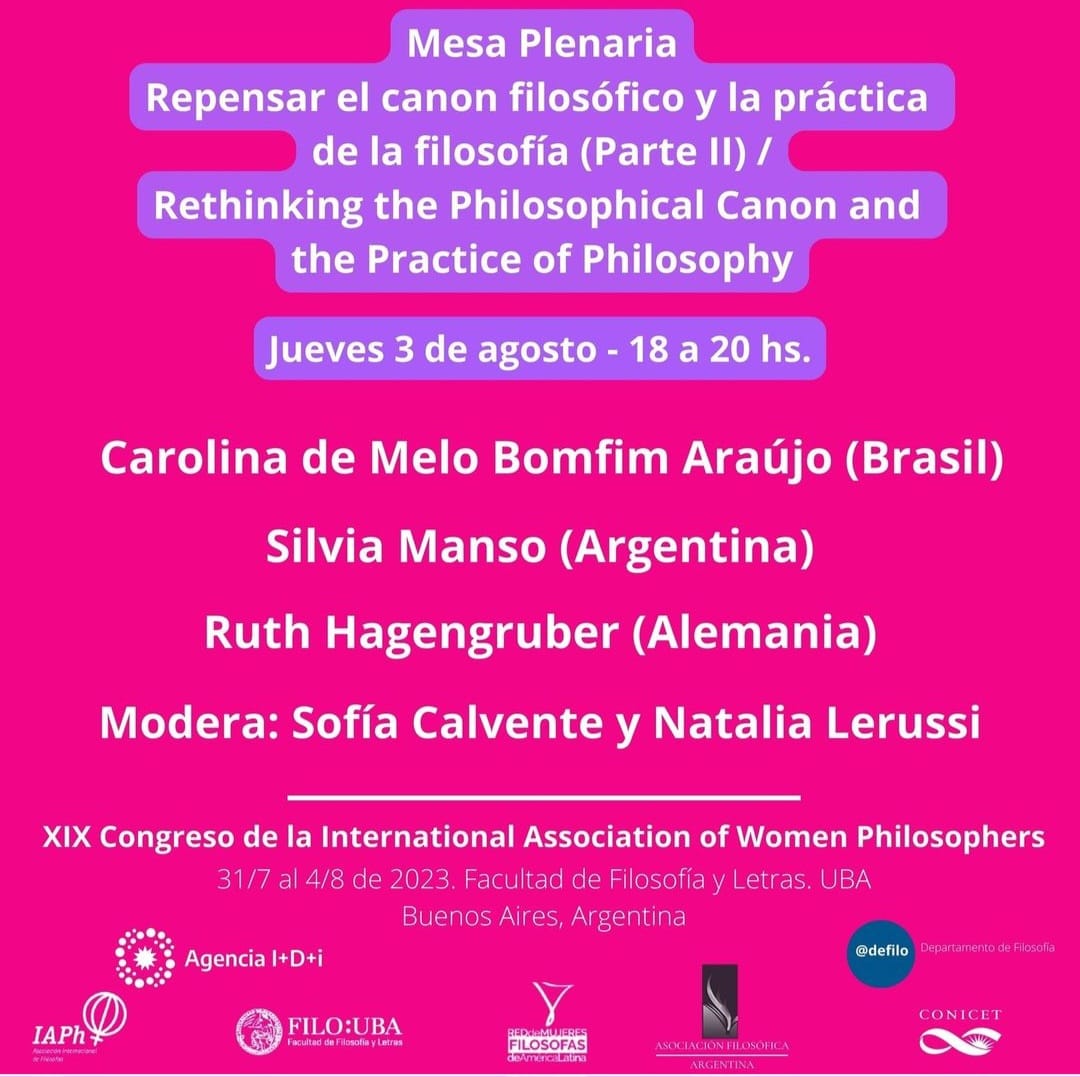 In the context of this year's IAPH Symposium , dedicated to "Feminisms Today. Philosophical Contributions against Violence, Discrimination and Exclusions", at the UBA in Buenos Aires, Argentina, Ruth E. Hagengruber, Silvia Manzo and Carolina Araújo held a plenary on August 3. In the plenary, moderated by Sofía Calvente and Natalia Lerussi, they discussed the topic "Rethinking the Philosphical Canon".
What does it mean to rethink the philosophical canon and how do we rethink the history of philosophy? This is a question that has been the subject of research by Ruth E. Hagengruber for years.
Although women were restricted in their access to education and participation in society, such restrictions could not completely prevent them from thinking and writing. Incorporating their ideas into the history of philosophy means much more than simply adding a second pile of books adjacent to the first one. When we investigate the history of female philosophers, we do not merely exchange one canon for another, in which the same things are said and the same topics examined. Rather, the canon shaped by female philosophers has its own characteristics and traditions, and it can be read both as a history of resistance and critique, and as a tradition of advances and of original contributions. The material brought to light gives us cause to rethink both our concepts and interpretations of the history of philosophy in general and our view of the history of female philosophers in particular. – Ruth E. Hagengruber 2015, p. 35.
We are thankful for the contributions and the fruitful discussions that shed light on the history of women philosophers!
Reference:
Hagengruber, R. (2015). Cutting Through the Veil of Ignorance: Rewriting the History of Philosophy.
The Monist
,
98
(1), 34–42.
http://www.jstor.org/stable/44012711