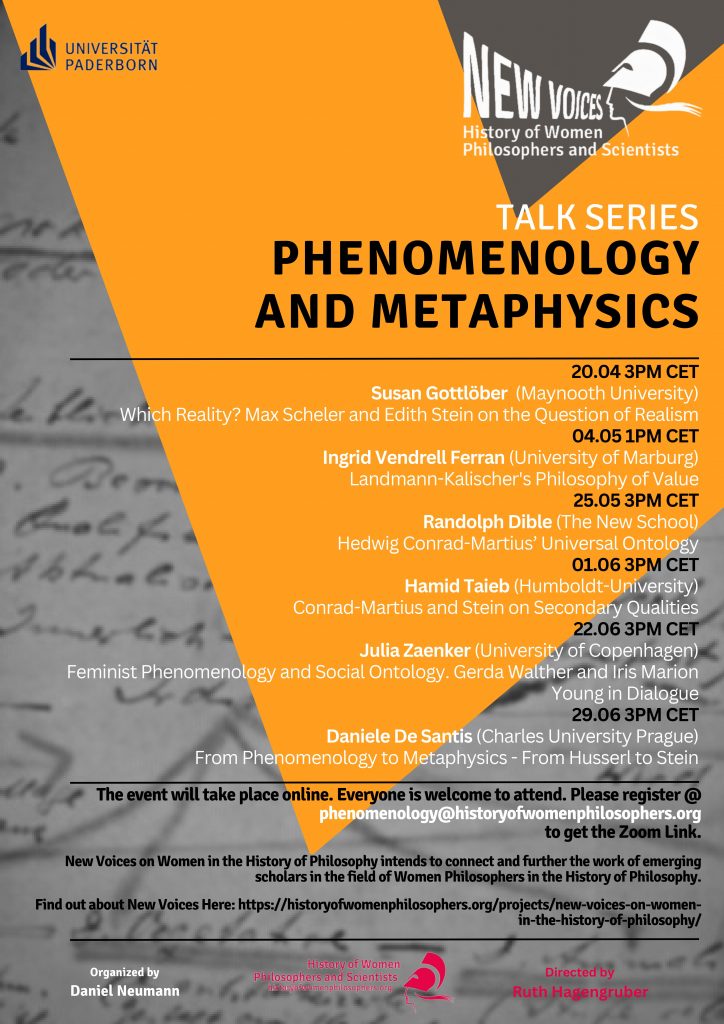 The Summer Term Talk Series, organised by  Daniel Neumann, Research Fellow at Paderborn University, is dedicated to Phenomenology and Metaphysics.
Everyone is welcome to attend. To register and to receive the zoom invitation, please send an email to phenomenology@historyofwomenphilosophers.org
Here is the link for the whole program: https://historyofwomenphilosophers.org/new-voices-talk-series/
The next lecture in the series is on the 22nd of June at 3 pm, with a talk by Julia Zaenker on "Feminist Phenomenology and Social Ontology. Gerda Walther and Iris Marion Young in Dialogue".
Abstract: Gerda Walther's work in phenomenology is often presented in light of the metaphysical struggles of its founding fathers, namely Pfänder's realistic phenomenology, Husserl's transcendental turn and Heideggerian ontology. Instead, I want to revisit Walther's phenomenological approach to social ontology by reflecting on the relation between metaphysics and feminist phenomenology. To do this, I bring her into dialogue with Iris Marion Young's careful perspective on the contemporary reality of political activism. My analysis juxtaposes Walther's description of the reflective, self-referential nature of communities with Young's suggestion to think about gender as a serial collective. I argue that this points towards a possible meaning of Walther's "realist" commitments that invites us to read and apply her work beyond the standard interpretative paradigms.
The next date of the New Voices Summer Term Talk Series is: 29.6.