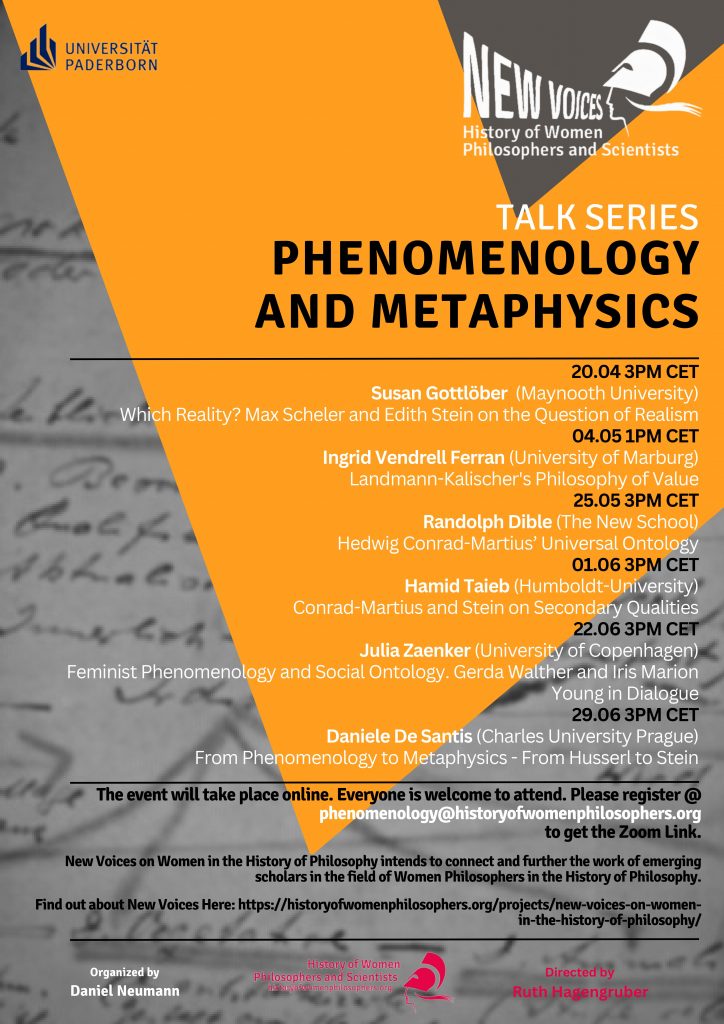 The Summer Term Talk Series, organised by  Daniel Neumann, Research Fellow at Paderborn University, is dedicated to Phenomenology and Metaphysics.
Everyone is welcome to attend. To register and to receive the zoom invitation, please send an email to phenomenology@historyofwomenphilosophers.org
Here is the link for the whole program: https://historyofwomenphilosophers.org/new-voices-talk-series/
The next lecture in the series is on the 4th of May at 1 pm, with a talk by Íngrid Vendrell Ferran on "Landmann-Kalischer's Philosophy of Value".
Abstract: This talk aims at exploring Landmann-Kalischer's analogy between the sensing of secondary qualities and the feeling of values in her work "Philosophie der Werte" (Philosophy of Values) (1910). Attention is paid to the epistemic motivation of the analogy, the distinction between pure feelings and affects, and the relation of pure feelings to value judgments. As I shall argue, for Landmann-Kalischer, feelings can be both intentional and cognitive.
Other dates of the New Voices Summer Term Talk Series are: 25.5., 1.6., 22.6., 29.6.