Laura Kotevska's article Writing Women into the History of Philosophy: Contextualism Re-Examined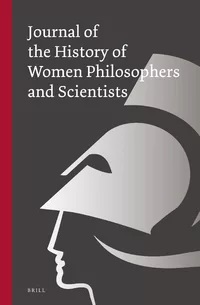 Weekly we want to highlight the writers to the Brill Journal on the History of Women Philosophers and Scientists, which is founded by Ruth Hagengruber & Mary Ellen Waithe. This week we want to present Laura Kotevska who wrote the article Writing Women into the History of Philosophy: Contextualism Re-Examined.
Abstract: Contextualism is an established approach in the history of philosophy. This paper explores the advantages and disadvantages of contextualism as it is used in the examination of philosophical works produced by women whose work has, until recent decades, been neglected by historians of philosophy. It examines how various options for practicing contextualist history of philosophy might help to explain a woman's participation in philosophy or undermine her intellectual authority and obscure our understanding of her work. The paper concludes with three suggestions for writing and teaching work produced by women that are informed by the methodological considerations addressed in the paper in order to avoid some of the epistemically harmful outcomes that can emerge when placing a woman's work in her patriarchal context.
Laura Kotevska is a lecturer at The University of Sydney, appointed in the Education Portfolio in the Office of the Deputy Vice-Chancellor and the Department of Philosophy. Her research interests include early modern philosophy, virtue epistemology and moral philosophy. She also has an interest in scholarship on teaching and learning, specifically teaching for moral and epistemic virtue.