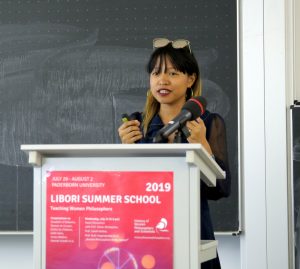 From May 1-7, 2023, Krissah Marga Taganas will visit the Center for the History of Women Philosophers and Scientists.
Krissah Marga Taganas is Assistant Professor of Philosophy at the University of the Philippines Los Baños. Her research focusses  on Feminist Philosophy and Feminist Pragmatism. In addition, Taganas is also interested in Socio-Political Philosophy and Gender Studies.
At the Center, she is already a widely engaged person. She is a member of the New Voices research network. She was also an active participant in the Libori Summer School in 2019. In the context of this conference she gave a lecture on Towards a transformative Education
through feminist Pragmatism. Also check out her interview with Krissah Marga Taganas, which was recorded during the Libori Summer School.
On Monday Krissah Marga Taganas will start her one-week research visit at the Center. We are looking forward to welcoming her back in person.
For more information about Krissah Marga Taganas visit:
https://up-losbanos.academia.edu/KrissahMargaTaganas http://linkedin.com/in/krissah-marga-taganas-61b969109