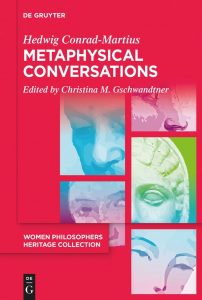 We are pleased to announce the publication of Hedwig Conrad-Martius' Metaphysical Conversations and Phenomenological Essays, translated by Christina M. Gschwandtner. It is the first offering in the new DeGruyter series Women Philosophers Heritage Collection, edited by Ruth Edith Hagengruber together with Antonio Calcagno, Priyanka Jha and Rodney K. B. Parker. The book contains the 1921 text of the Metaphysical Conversations as well as the essays Phenomenology and Speculation and Transcendental and Ontological Phenomenology. Next to the English translations, the volume also contains the German texts.
The Metaphysical Conversations constitutes a new direction in the oeuvre of Hedwig Conrad-Martius. After having considered ontology from a phenomenal perspective in her 1916 Zur Ontologie und Erscheinungslehre der realen Außenwelt, in this book she establishes, in the form of Socratic dialogue, many of the metaphysical topics that she would expand on in later works. These include the ontic distinctions between plant, animal and human life which are further explored as the differences between bodily and spiritual being. In this way, the themes of the Metaphysical Conversations prefigure central ideas of Conrad-Martius Realontologie, published in 1923, where ontological investigations into real and material being take on a more formal guise.
Because of its playful dialogical character, this volume serves as a great introduction into the thinking of Hedwig Conrad-Martius, offering a glimpse into her unique realm of ideas.
Please also visit the DeGruyter page.