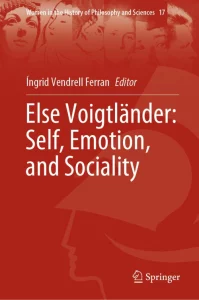 We are happy to announce the release of "Else Voigtländer: Self, Emotion, and Sociality", edited by Íngrid Vendrell Ferran.
It is part of the series "Women in the History of Philosophy and Sciences" which is being published at Springer in association with the Center for the History of Women Philosohers and Scientists.
This book is the first to offer a full account of the philosophical work of Else Voigtländer. Locating the sources of her thought in the philosophy and psychology of the nineteenth and twentieth19th and 20th centuries in figures such as Nietzsche and Lipps, the volume book uncovers and examines Voigtländer's intellectual exchanges with both phenomenology and psychoanalysis. The major themes within her work are considered in 12 expertly written chapters that also cover more recent developments in the philosophy of self, emotion, and sociality. The book appeals to scholars who are interested in the history of philosophy, and in particular of phenomenology, as well as those working on the philosophical roots of psychology and in women's studies.
The volume includes contributions by Philipp Schmidt, Thomas Barth, Genki Uemura, Toru Yaegashi, Alessandro Salice, Hilge Landweer, Guillaume Fréchette, Ute Gahlings, Sophie Loidolt, Petra Gehring and George Heffernan.
Visit the Springer page.
Find out more about the series "Women in the History of Philosophy and Sciences".