Felix Grewe M.A. research fellow at the Center for the History of Women Philosophers and Scientists at Paderborn University.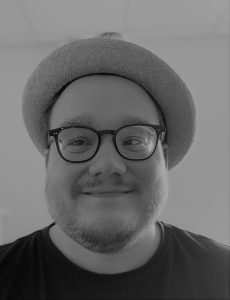 My research focuses on Gender Philosophy, Feminist Philosophy, Philosophy of Technology and the work of Donna J. Haraway.
Currently I am writing on my dissertation (working title: Donna Haraway: On the re-definition of boundaries of sex, gender and bio-mechanical species). The aim of the dissertation is to dissolve the previously valid categories of gender by redefining humanly set boundaries, such as evolution, social categories, rights, hierarchies and ways of thinking. The dissertation centers on the work of Donna J. Haraway, whose writings, from the Cyborg Manifesto to the present, have been dedicated to dissolving existing boundaries. The examination of her work is intended to offer the possibility of a new interpretation and formation of patterns of identification far removed from gender.
In July 2021 I was the conference manager of the IAPh 2021 Defining the Future – Rethinking the Past, held from July 18 to July 21, 2021 at Paderborn University.
You can find more information about me in the cubes below. Contact: felix.grewe@uni-paderborn.de