Ruth E. Hagengruber: La tradition de la critique de la Bible féminine : De Nogarola à Du Châtelet.
Talk | 2:00 PM - 4:00 PM |
Émilie Du Châtelet et la littérature philosophique clandestine
25 juin 2021
Journée d'étude en ligne organisé par
Pierre-François MOREAU et Maria Susana SEGUIN
dans le cadre du programme
« L'inventaire des manuscrits philosophiques clandestins » des activités du groupe « Libertins et clandestins » de l'Institut d'Histoire des Représentations
et des Idées dans les Modernités et du LabEx Constitution de la Modernité (COMOD)
Programme
9 h 00
Maria Susana SEGUIN
(Université Paul-Valéry Montpellier III – IHRIM UMR 5317, ENS de Lyon et IUF)
Introduction
9 h 15
Anne-Lise REY
(Université Paris Nanterre- IRePh)
Imagination et certitude dans les Institutions de Physique d'Émilie du Châtelet.
9 h 45
Elena MUCENI
(PhD Université de Rome « Tor Vergata » et Université de Genève)
La Fable des abeilles d'Émilie Du Châtelet : un manuscrit philosophique clandestin?
10 h 15
Discussion -pause
11 h 00
Eszter KOVÁCS
(NKE EJKK PÁK- Budapest – IHRIM)
« C'est là cette Esther qu'on donne pour modèle à toutes les princesses chrétiennes » : ambiguïtés des figures féminines dans les Examens de la Bible.
11 h 30
Véronique LE RU
(Université de Reims Champagne-Ardennes – CIRLEP)
Le Discours sur le bonheur ou la morale matérialiste et hédoniste d'Émilie Du Châtelet.
12 h 00
Discussion -pause
14 h 00
Ruth HAGENGRUBER
(Center for the History of Women Philosophers and Scientists, Paderborn University)
La tradition de la critique de la Bible féminine : De Nogarola à Du Châtelet.
Maria Susana SEGUIN
(Université Paul-Valéry Montpellier III – IHRIM UMR 5317, ENS de Lyon et IUF)
Nouvelles recherches sur la bibliothèque d'Émilie Du Châtelet
15 h30
Discussion
16 h
Pierre-François MOREAU
(IHRIM UMR 5317, ENS de Lyon)
Conclusion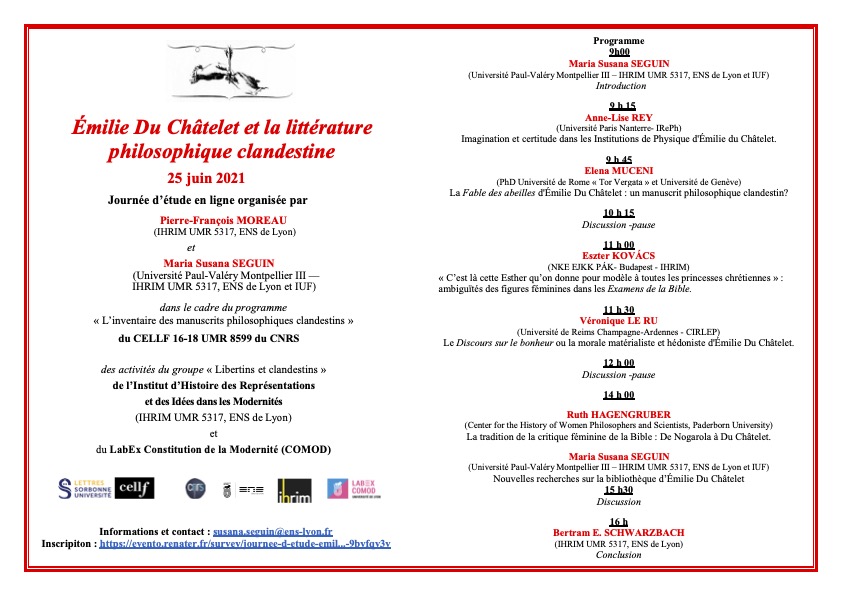 DATE

25 June 2021



TIME

2:00 PM - 4:00 PM



COSTS

none