Prof. Stella Villarmea – "Philosophical feminism: an introduction"
Workshop | all-day | Center for the History of Women Philosophers and Scientists
Prof. Stella Villarmea ist in der Woche von Montag, den 07.04.2014 bis Freitag, den 11.04.2014 zu Gast am Lehr- und Forschungsbereich History of Women Philosophers and Scientists von Prof. Dr. Ruth Hagengruber, Inhaberin des Lehrstuhls für Praktische Philosophie an der Universität Paderborn. Villarmea ist Professorin an der traditionsreichen Universidad de Alcalá in Madrid. Ihre Forschungsschwerpunkte liegen in der Erkenntnistheorie und feministischen Philosophie, mit besonderem Fokus auf den amerikanischen Debatten.
Am Montag, den 07.04.14 um 14 Uhr leitet Villarmea das Projektseminar "Einführung in die Klassikerinnen feministischer Theorie im 20 Jhdt." von Ana Rodrigues, das sie mit einem Vortrag zum Thema "Philosophical feminism: an introduction" eröffnet.
Im Seminar "Migration und Ethik" von Daniela Ringkamp trägt Stella Villarmea am Dienstag, dem 08.04.14 um 11 Uhr über die feministische Philosophie in Spanien vor.
Zum Abschluss ihres Aufenthalts an der Universität Paderborn, hält Stella Villarmea im Rahmen des Workshops "Gender Relations and Economic Values / Geschlechterbeziehungen und ökonomische Werte" am 10.04.14 (16-18Uhr) einen Vortag zum Thema "Innovative Reflections on Obstetrical Controversies / Neue Überlegungen zu geburtshilflichen Kontroversen".
Interessierte sind zu allen Veranstaltungen sehr herzlich willkommen!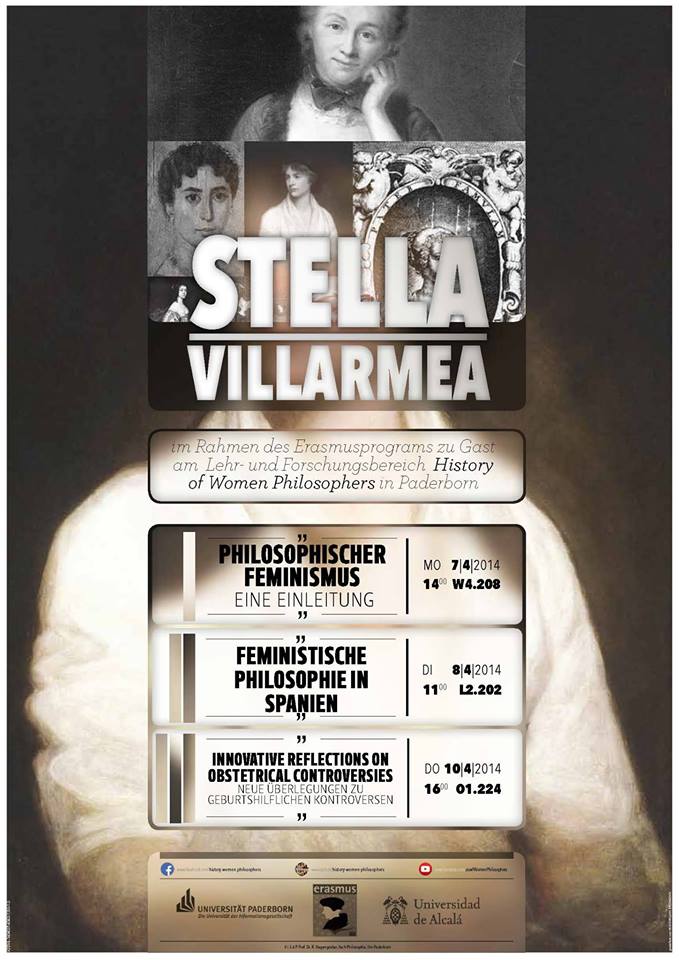 DATE

7 April 2014



TIME

all-day



COSTS

none



PLACE

Paderborn University

Warburger Straße 100




Paderborn

,

NRW

33100

Germany