Maria Gaetana Agnesi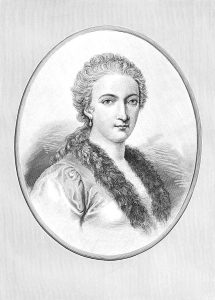 *May 16, 1718 (Milano)
†January 1799 (Milano)
Italian mathematician and philosopher
Maria Gaetana Agnesi rose to fame in her lifetime as a child prodigy in her native Milan. Later she became known mostly for her 1748 Instituzioni Analitiche, a calculus textbook, that caught the attention of mathematicians throughout Europe, including Leonhard Euler. This work earned her an honorary place in the Academy of Sciences of Bologna.
She has been found to be an enigmatic figure of the history of science, as she gave up her scientific pursuits in her thirties for a life of piety helping the poor.
Agnesi wrote about the rights of women to an education while still a child; she published in 1727 the Oratio in which the worth of women was assessed and defended.
Her scientific interests go from Newtonian mechanics to natural history and the relationship of the soul with the body. Her mathematics combines Leibnizian and Newtonian perspectives on calculus, as well as differential and integral calculus.